BONINFANTE FRICTION, BORN FROM TOP FUEL TECHNOLOGY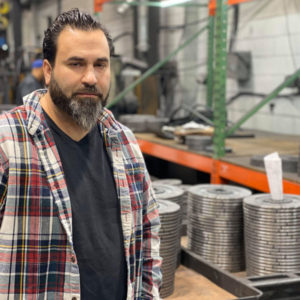 As a family-owned business started in 1988, Boninfante Friction, Inc. produces superior quality parts at competitive prices while setting standards for every market in which we compete.
We've has sustained consistent growth and maintained customer satisfaction year after year.
In 2011, the family business changed hands, passing from father to son, and growth has increased under the next generation.
Rob Boninfante grew up in the company and although its core values have remained the same, the corporate scope has been widened to encompass second-to-none quality and value while also focusing on on-time delivery and customer satisfaction.
All of this is being monitored by sophisticated engineering and business standards that make us the world leader.
Boninfante Friction, Inc. is the world leader in friction clutch manufacturing for the motorsports market.
Boninfante creates custom clutches for a vast array of applications, from street cars to full race clutches, from NHRA Top Fuel dragsters and nitro Funny Cars, to Formula1 and F1H2O boats, and more.
Boninfante also produces industrial strength clutches for road grader applications and precision aircraft test equipment.
Boninfante specializes in energy transfer and currently has 100% market share in NHRA Nitro Funny Car and Pro Stock drag racing.
Boninfante has expanded beyond the clutch market into the automatic transmission world with a new line of billet aluminum flexplates, torque
converters, DCT clutches, billet input shafts, automatic transmission parts, SFI-approved safety equipment (bell housings and burst panels) and high strength fasteners.

WHY BONINFANTE? Because we are the BEST!
A Brief Boninfante History
Founded in 1988 by Nick Boninfante Sr.
Purchased by Rob Boninfante in 2011
Added precision aerospace testing parts in 2012
Expanded beyond the core clutch business to include automatic driveline parts, high-strength fasteners, and input shafts
Acquired Kenny's Pulling Parts in 2019 adding the premier diesel parts
Acquired ProTorque in 2020 adding the nation's most recognized torque converter brand
Core Competencies
Complex Engineering & Design
AutoDesk, Feature CAM, PartMaker
SolidWorks
Master CAM
E2/JobBoss
Precision Machining
Metal Sintering
Rapid Prototyping & Production Development
Research & Development and Product Realization
Bridge Manufacturing to High-Volume Solutions
Testing & Failure Analysis in The Destruction Lab
Fatigue, longevity, and failure testing
Cycle testing
High energy torque testing
1,000lb inertia wheel dynamometer at 10,000 RPM
350lb inertia wheel dynamometer for durability testing
Industries & Applications
Professional motorsports and racing (NHRA, NASCAR, PPL, NTP, NMCA, NMRA, PDRA, MWDRS, ADRL, etc.)
Ultra high-performance supercars (Lamborghini, Ferrari, etc.)
High-end performance aftermarket (1,200hp and up)
Aerospace (Boeing, Hamilton Sundstrand, Rolls Royce, US Military)
Company Focuses
Boninfante = Race clutches, friction products, shafts and fasteners
Kenny's Diesel = High-strength diesel parts and high-performance pulling applications
ProTorque = High-performance torque converters and automatic transmission driveline parts
Manufacturing Capabilities
PENNSYLVANIA
2500-watt Fiber laser cutter (5/16" steel)
Wire EDM cutting
Mills and lathes (CNC & manual)
Precision grinding/finishing
Double disk grinding
Heat treatment
Broaching, hobbing & shaping
Welding including automated
Sintered friction materials
Tool & die manufacturing
Laser marking
KENTUCKY
Multi-axis machining
CNC Mills and lathes
Thread rolling
Broaching, hobbing & shaping
Precision grinding/finishing
Welding
OVERSEAS PARTNERS
Stamping
Forging
Multi-axis machining
Complex assemblies
Drivetrain Products
Torque converters
Dry clutch systems
High-torque shafts
High-strength fasteners
Input frictions
Flexplates and flywheels
Planetary and complex motion gearing
Diesel clutches for on-road and off-road
Engine parts
Bell housings and burst panels
CVT and DCT transmission parts
---
Best in the business! We won a lot of races with ProTorque converters in the car. ProTorque (Joe Rivera) is an innovator! Always looking to make a better (faster) product!
I have known Joe Jr for many years and I can tell you he is the real deal. He will do everything necessary to make sure your expectations are met and exceeded. I have personally served with Joe on a major industry advisory board and I can tell you he knows performance and he knows his product.  He is the PRO in ProTorque.
My bolt together Gen X rocks! Joe is fantastic to work with. My Jeep just goes faster and faster and ProTorque puts the power down!